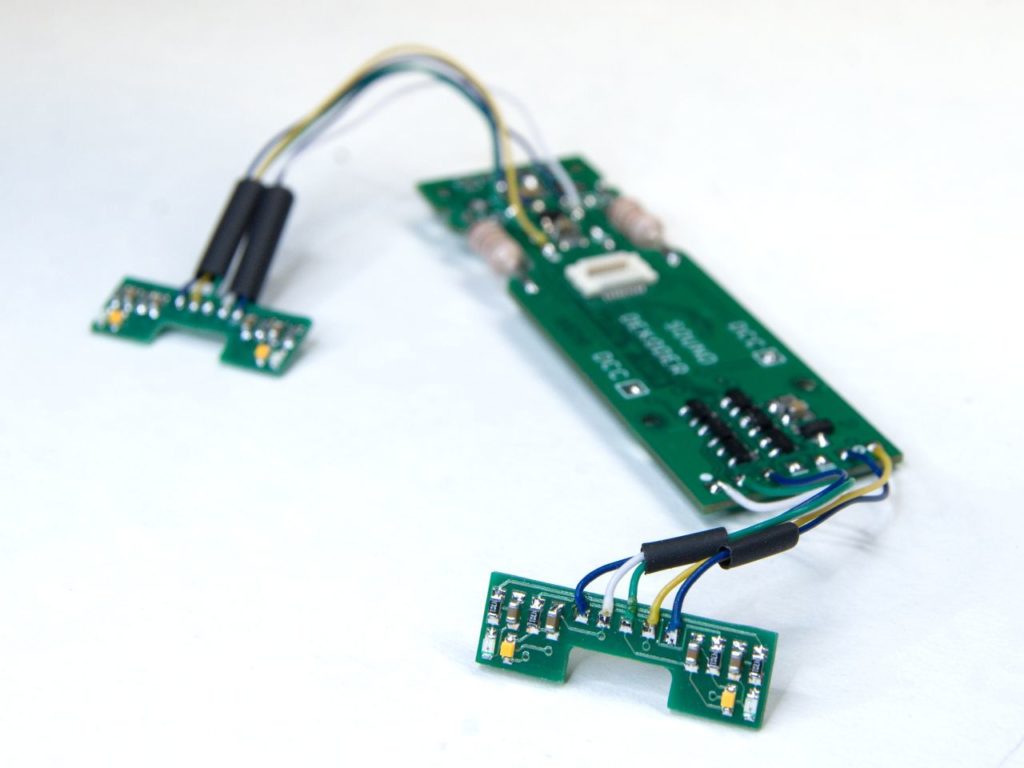 I offer a complete electronics module for expanding the lighting options for the T679.1 model from Roco in the TT scale according to the operation in the times of ČSD era. The module is ready for direct installation, without the need for mechanical travel adjustments. The set also takes into account the full sound of the model and the package contains all the components necessary for successful installation in the model.
For installation is required bodywork adjustment! Model manufacturer does not have transparent tail lamps! The required material is included in the package.
Parameters:
| | |
| --- | --- |
| Suitable models | Roco – type: all produced model versions in TT scale |
| DCC decoder interface | NEM662 – Next18 |
| Max. DCC voltage | 25V |
| Max. current | 1A |
| Type designation | Warm white – T6791-RC-WW-SET |
Variants of light signals:
Train front signal (two white lights on the front of the locomotive)
Train front signal (two red lights on the end of the locomotive)
Shunting vehicle signal (ČSD) / Occupied vehicle (ČD) (one white light on both fronts of the locomotive)
Shunting vehicle signal ČD (two white lights on both fronts of the locomotive)
Reflector (directionally dependent and independently controlled)
The module enables high model fidelity. The tail lights can be switched on separately, so that, for example, locomotive lighting can be achieved for push mode, when the headlights are not lit. Detailed settings of all CV registers are clearly listed in the tables at the end of the manual. Even DCC newbie can according this table easily setup loco!
Verified decoders:
Zimo (all sound and nonsound with Next18 interface)
Kuehn (all with Next18 interface)
Lenz Silver+ (with Next18 interface)
Sound and Power-Pack:
The electronics module is fully adapted for mounting with an audio decoder. I also offer a speaker module for sound (T6791-RC-REPRO). When ordering sound project from Jacek, please notify him of future installations in this version of electronics. With regard to the spatial possibilities of the model, the electronics module also counts on the installation of a power-pack, which can be assembled from several capacitors connected in parallel (not included in the package). Detail information and photos are in the manual. The electronics module is not adapted for digital coupler connection.
Price: 781Kč incl. VAT
This electronics module can be purchased at the TT-Modelář online store –http://www.ttmodelar.eu .