This new board is designed to all who wants to test setting of CV registers in DCC decoders, but doesn't want to repeatedly dismantle their railway models. The board allows you to upgrade firmware in you Zimo DCC decoder via ZIMO MXULFA component and load sounds too. There are four implemented interfaces (Next18, Plux12/16/22, NEM651 and wire) focused on mainly small scale models (N, TT, H0). For wire decoders there is adapter enclosed.
The advantage of this board over others on the market is the possibility of direct connection of a digital couplers! No additional components are required! Just connect the coupler to the red terminal block! In addition, all terminal blocks are pluggable, so all handling of external components is simple and fast. At the same time, the output to the coupling is protected by a short-circuit fuse.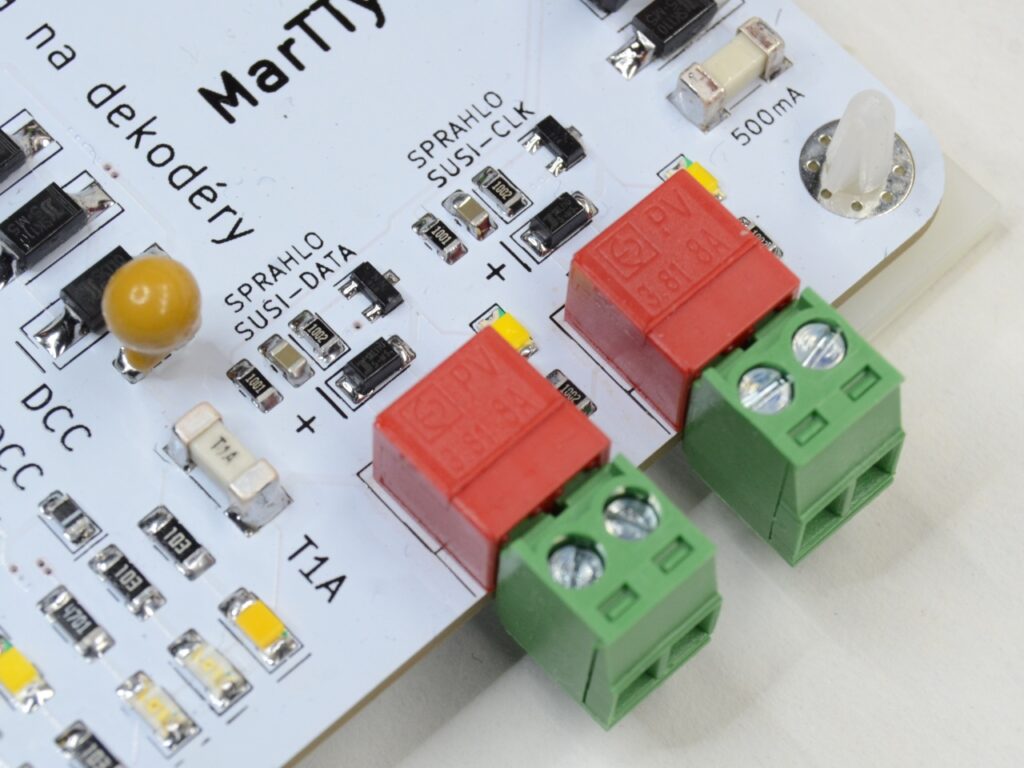 The jumpers on the board ensure great variability. It is also possible to test an external motor, for example from brass etched model, or after repair. You can also connect an external speaker or test the behavior of the model with different sizes of capacitors in the power-pack. The main switch directly on the board simplifies handling, where it is not necessary to disconnect the supply from the DCC control panel, but by a simple switching it is possible to disconnect the DCC supply and replace the decoders with another one. The SUSI interface connectors allow connection to the MXULF device from Zimo for FW and sound updates in decoders. Of course, there are also pads on the board for recording sounds to wire decoders through SUSI.
Warm white LEDs are used to signal the status of the function outputs.
The device is offered in two versions: economic and full. The economical version contains only a tester board, including one reduction for wire decoder. The full version is also supplied with a built-in motor and a 1W speaker directly on the board – ready to use.
Maximum voltage [V]
28V
Maximum current [mA]
cca. 1000mA
Type designation
Full version – DECTSTBRD-FULL
Economy version – DECTSTBRD-ECO
List of compatible decoders
The following decoders have been tested and are fully compatible. The FW upgrade was also tested for Zimo and Artol and Zimo for sound recordings. (sorting is by interface)
– interface – NEM651
Zimo – MX649N
ESU – LokSound 5 Micro (Installed sound of T679.1)
Lenz – Silver mini+
Lenz – Gold mini+
Kuehn – N45-P
– interface– Next18
Zimo – MX618N18
Zimo – MX649N18
Zimo – MX659N18
Lenz – Silver+ Next18
– interface– Plux12
Lenz – Silver+ Plux12
– interface– Plux16
Zimo – MX630P16
Kuehn – T65-16
– interface – Plux22
Zimo – MX645P22
Zimo – MX633P22
Manual: Připravuje se.
Price (full version): 1210Kč včetně DPH
Price (economy version): 999Kč včetně DPH
This electronics module can be purchased at the TT-Modelář online store –http://www.ttmodelar.eu .